Being a spectator at the hot air ballooning sites in Goa is free!
Hot air ballooning is completely weather dependent. Flights may be delayed or cancelled if the conditions are unsafe for flying. A decision to delay flights or cancel them will only be made from 6.00am each morning. To find out if the balloons are flying guests with confirmed bookings will be informed well in advance.
Balloons take between 15-30mins to inflate, depending on their size. Inflation usually commences at 6.15am with the majority of the balloons launched prior to 7.00am. The early bird catches the worm.
Don't forget your camera to capture all the stunning balloons.
Bring cash if you wish to purchase souvenirs at the balloon field.
Bring along warm clothing for possible chilly mornings.
Bringing pets to the event is discouraged.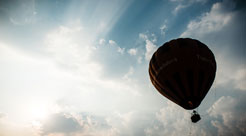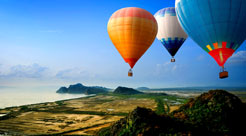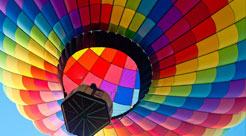 Safety Tips
If a balloon is launching or landing near you, stand well clear and not in front of where the balloon is heading.
Stay well clear of all equipment and walk around, not over ropes.
Ensure young children are closely supervised at all times.
Follow instructions issued by pilots and crew.
Do not smoke near the balloons. Highly flammable propane gas is used in the inflation process.
If you are driving while balloons are overhead, please watch the road and not the balloons. Or alternatively pull over and stop in a safe place.
Pets can be frightened by the balloons and noise of the gas burners. Be mindful of this if the balloons are overhead and take necessary precautions. Plan your morning Plan your morning
TERMS & CONDITIONS
From Camping Retreats of India Pvt Ltd
Coupon Purchase:
All purchases of a hot air balloon flight tickets/coupons must be through our authorized booking agent or through us directly.
You may purchase the tickets for your own or your loved ones (on the terms of this Contract). These Terms and Conditions will then refer to that person.
It is our intention that all the terms of the Contract between us are contained in these Terms and Conditions and in the brochures and associated documents (if any) issued by us. If you wish to rely upon any variation in these terms you should ensure that the variations are agreed in writing by us when the completed booking form is returned. If you purchase a voucher through a booking agent or a hotel you should agree to any variation in these terms with us and not the booking agent or the hotel.
Our obligations to you:
The coupon will entitle you to participate in a hot air balloon flight experience at a particular date including

I. Pick-up from and drop to your hotel/residence
II. The preparation and inflation of the balloon for flight
III. A flight in a hot air balloon
IV. A commemorative certificate signed by the pilot/Engineer
V. The recovery of the balloon at the end of the flight

The coupon is not redeemable for cash.
Hot Air balloon flights are completely dependent upon weather and are regulated by the Indian Aircraft Rules& Civil Aviation Requirements, It may be necessary to postpone a flight at any time if in our judgment the conditions are not safe or the flight would not be permitted under the Indian Aircraft Rules. We will give you as much warning as operational procedures allows of any postponement but in order to ensure your safety we reserve the right to postpone a flight at any time up to the moment of launch.
It is intended that the balloon will be in the air for approximately 1 hour but the pilot has ultimate responsibility for deciding the duration and conduct of any flight and the appropriate time and place of any landing. We cannot guarantee that a flight will follow any particular direction.
If we have to postpone your flight then you can ask for another date of flight as per your convenience and considering the availability. Alternatively you shall have the right to ask for a refund.
We will make you a refund less our reasonable administration costs (Clause 8) in the following circumstances; if you (the passenger) dies or is incapacitated or it is certified by a doctor that there is no possibility that you will be or were medically fit to fly (including by reason of pregnancy).
Refunds in any other circumstances are at our discretion.
Our administration costs are based on 25 per cent of the coupon price
We carry limited insurance cover against the risk of any injury to passengers and their belongings during the course of our flights in accordance with international agreements covering such flights. The level of cover varies from time to time as a result of currency fluctuations and you may not consider it adequate. We can provide further details upon request and if you do not consider the amount of insurance cover would be adequate to compensate you for any loss whether for death personal injury or damage to your belongings you should take out your own additional cover. We will not be liable for any loss or damage to equipment and personal effects including clothing brought with you on the flight nor for death or personal injury above the level of our insurance cover unless it has been caused by our recklessness.
We do not accept liability for any costs or expenses you incur if we have to postpone any flight, where the reason for the postponement is beyond our control.
We cannot supervise vehicles parked at the meeting point for a flight and vehicles and their contents are left at your risk and no liability is accepted for any loss or damage to your vehicle or contents unless it is due to our negligence.
Your obligations to us:
Your coupon is valid for the specific date and time. If your flight is not taken on that particular date and time without prior intimation and adjustment with us then please consider the coupon utilized and invalid for future use.
You may postpone your flight up to 7 days before the meeting time for the flight which you have booked depending upon the future availability. If the future desired date in not available then you might have to get the coupon endorsed as open for flight for a later date.
If you do not give notice of postponement in accordance with clause (3) above or do not attend in time to take part in your booked flight, you will not be entitled to a re-scheduled flight nor to any refund.
We are not qualified to express an opinion confirming that you are fit to fly and you must ensure that you are fit to fly.
You must not fly if you are suffering from any serious medical condition, or have recently undergone surgery unless you have a certificate of your fitness to fly from your doctor.
You must not fly if you are pregnant or under the influence of drink or drugs.
Our paramount consideration is for your safety and the safety of others participating in the flight and you must obey all requests and instructions issued by any of our representatives and take particular care to abide by any safety instructions given.
The pilot has complete discretion as to whether to allow you to take part in the flight and will refuse to allow you to do so if in his opinion you would be a risk to the balloon to other passengers or to yourself.
We will not fly children under the age of 5 years. A child under the age of 14 years will only be flown if accompanied by a responsible adult.
You should wear such appropriate clothing as is advised to you in advance of the flight.
Do not wear valuable clothes and shoes as sometimes deposits from the burners can cause staining on light colored clothing.
We often land in areas that require sports shoes.
On occasions we may be required to move launch sites on the day of your flight, this move will only be due to adverse wind directions, so as to achieve the flight safely and within the rules of the Air Law.